SATURN Transient Recorder
The Saturn Transient Recorder product line sets a new standard in data acquisition. The scalable and versatile system is built for a large variety of applications. It is designed for highly synchronous measurements with optimum precision at high speed.
> For further information see also our supplier's website AMOtronics.
Technical Data
Up to 240 high speed channels
Industry standard cPCI architecture and powerful slot PC
User friendly Saturn Studio Software
Scalable up to large quantities of channels and memory
Full galvanic isolation through digital fiber transmission
Reconfigurable hardware, adaptable for special applications and easy updates
Ditigal Fiber Probes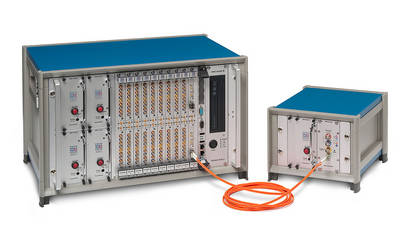 In applications with a floating potential, a galvanic isolation of the data acquisition front end and the transient recorder unit is needed. The Saturn Transient Recorder can be equipped with digital fiber transmission modules that enable a km long separation between the test object and the data storage system.
Typical applications are high power or high voltage testing of circuit breakers, transformers or in ballistic experiments where long distances have to be spanned.
The perfect shielding of the battery powered "satellites" enables a secure recording of transient signals even in strong electrical and magnetic fields.
The fiber transmission enables a distance of up to 15 km without compromising synchronous recording between any channel or speed.
Applications
Transient recorder with this high speed data handling in combination with optical transmission via digital fibers build a unique instrument with outstanding quality. Wide-banded analog signal conditioning along with fast sample rates enable acquisition to the highest standards.
Our continuously expanding range of products covers all typical applications from mobile data recording with a few channels, to extensive installations of multiple high-speed channels. This performance is ideal for our customer segment in the field of Medical/Military and Aerospace Applications
Ballistic research
Hypersonic wind channel test
Shock wave research
Aerodynamics
Turbo machine tests
Propulsion systems
Pyrotechnic research
Vibration and modal analysis
Satellite testing
Material reasearch
Strain gauge recording